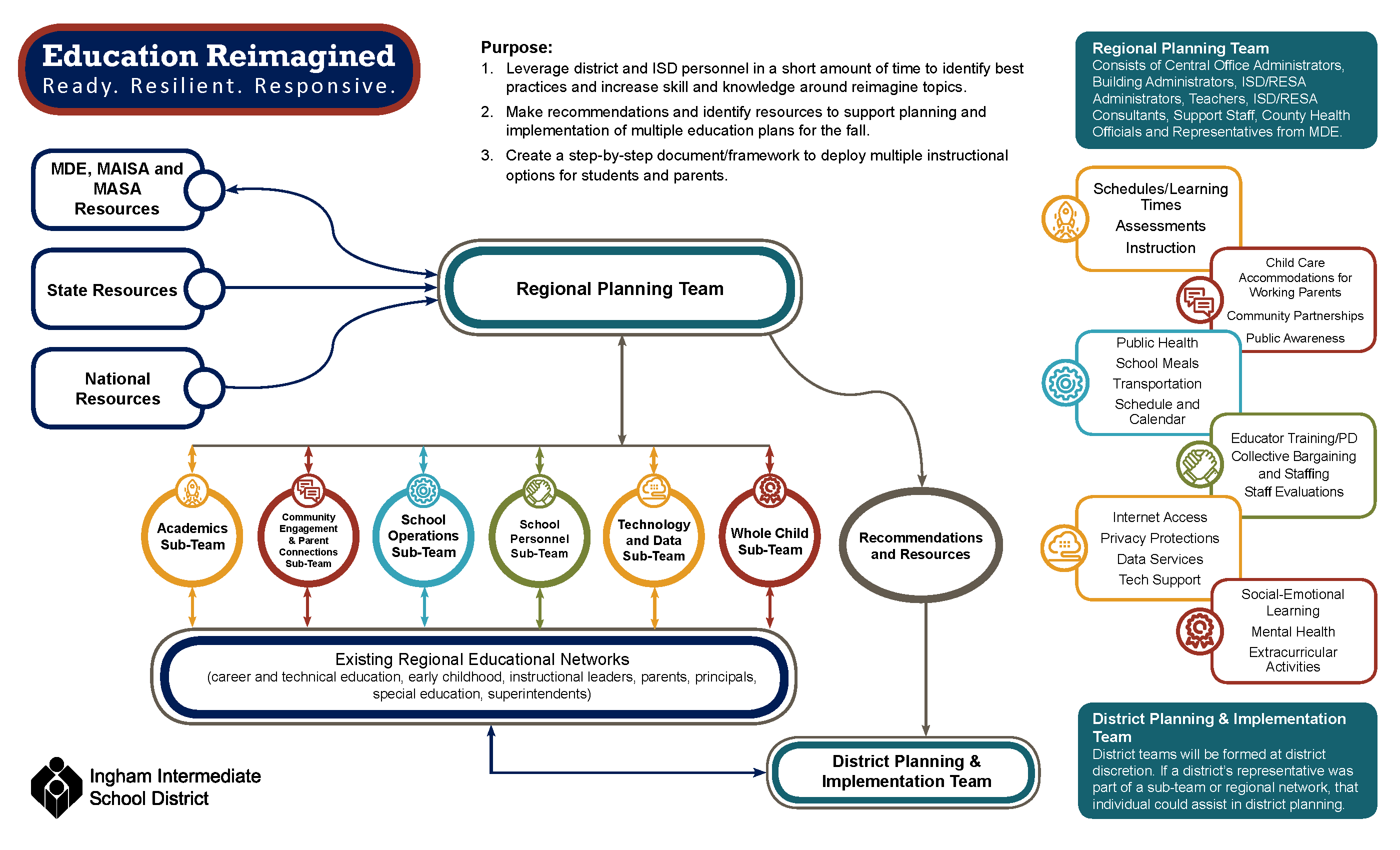 As part of our mission to lead and serve for the achievement and success for all learners, the Mid-Michigan region would like to best position ourselves to support families and students during the COVID pandemic through our Education Reimagined initiative.
We believe these times require special planning because:
There are equity and access issues we need to address with our students as not all students currently have the same access to learning through technology.

There is a need to support all students in learning and continue to implement instructional best practices during this pandemic.

The pandemic provides us with an opportunity to quickly leverage technology to improve instruction over the long term.

Reopening will involve novel challenges, so we need to begin planning early.
Background and Context
We believe to provide students with the highest level of teaching and learning, we have an opportunity to reimagine education and put structures in place that will improve teaching and learning. To leverage this opportunity, we will plan in the next 3 months to operate in a technologically integrated learning environment that will use a face-to-face, modified and online school structure. As we don't know how we will start the year or if conditions of the pandemic may require a change in the way we operate, we will need to create plans that are flexible and adaptable. Some values we need to incorporate into our plans:
Flexible to address the wide variety of possible scenarios (fully online, blended, etc.) and staff/student needs

Elevate equity and build community and relationships

Integrate and improve what we have learned during the pandemic and provide resources outside of the school day

Structure both synchronous and asynchronous activities regardless of the amount of face-to-face time

Provide choice to students and families and develop capacity in their learning

Provide learning and collaboration this summer to develop the capacity for educators to adjust the fluid situations

Include Relevant stakeholders voice in our planning
Planning Purpose and Goal
The project goal is to translate state and national implementation resources of school reopening to our local context and develop the capacity of teams of educators in specific implementation areas across our region. These teams will create recommendations for planning and implementation and help problem solve as districts implement plans for teaching and learning during the pandemic. Our three goals are:
Leverage district and ISD personnel in a short amount of time to identify best practices and increase skill and knowledge around reimagine topics.

Make recommendations and identify resources to support planning and implementation of multiple education plans for the fall.

Create a step-by-step document/framework to deploy multiple instructional operations for students and parents.
Structure
Regional Planning Team
There will be three levels of implementation for this project. The first is a regional team that will provide feedback to the sub-teams, review recommendations from the sub-teams, and support communication across the region. This team will review initial research, recommend sub-team structures and feedback loops to connect, focus, and leverage knowledge across the system, including utilizing existing structures and networks.
Responsibilities of the Regional Planning Team Members:
Join/Chair one sub-team

Support facilitator of the sub-team

Provide templates for sub-team agendas and action plans to ensure continuity and information flow

Communicate between sub-teams and the RPT in part by providing weekly updates at RPT meetings

Provide communication between sub-teams by identifying duplication of effort, gaps, and "handoffs" between sub-teams

Identify and share additional resources as they become available from national and state sources
Sub-Teams
The second level of implementation is developing the capacity of sub-team members to produce recommendations and resources used in planning. These six sub-teams will engage in conversation to identify benefits and drawbacks to different models and resources so they can problem-solve issues and challenges as they arise. The six sub-teams are Academics, School Operations, School Personnel, Whole Child, Community and Parent Engagement, Technology and Data.
Responsibilities of the sub-teams members:
Study research on best practices and problem solve implementation barriers

Develop capacity and expertise of team members

Draft recommendations to share with the Regional Planning Team

Communicate with relevant networks (principal, counselor, etc.)
District Teams
Team members across these two structures provide feedback loops to districts to support local planning and implementation of best practices to support teaching and learning. Each district will have their own plan and can use the framework created to launch a plan that makes sense in their district.
Responsibilities of the District Teams:
The Regional Planning Team will gather recommendations from sub-teams to publish in a central location for districts.

Districts will form their own planning teams and draft formal plans using sub-team recommendations.